our history
Ballard Brands is a hospitality and food service business formed in December 2001 by brothers Paul, Scott and Steve Ballard after success in operating retail beverage franchises (Smoothie King and PJ's Coffee) in Louisiana and North Carolina. After starting the Company with one restaurant and two coffee house franchises, the Company now owns, operates and manages, restaurants and food and beverage concepts, as well as, hospitality logistic and crisis management in 28 states and 3 countries.
Ballard Hospitality formed in 2005 as a result of Hurricane Katrina recovery efforts. As a result of the 2010 BP oil spill in the Gulf of Mexico, Ballard Hospitality enhanced its offering portfolio by providing remote site services to various corporations and government entities. We manage remote site services across North America and continue to grow internationally.
The Company's restaurant portfolio includes retail brands WOW American Eats, PJ's Coffee of New Orleans, and Boardhouse Serious Sandwiches. These brands collectively total nearly 155 locations in both traditional and non-traditional models and continue to grow. Ballard Brands also operates wholesale brand New Orleans Roast Coffee, which is sold in grocery stores and featured in an array of locations, including restaurants, hotels, airports and convenience stores. Ballard Brands' corporate offices are located in Mandeville, Louisiana.
In 2018, Garces and Ballard Brands entered into a strategic partnership centered around providing inspired hospitality for all guests. Today the multi-branded group combines award-winning culinary with operational excellence for a remarkable customer experience through our logistics, management, restaurants, events and coffee divisions.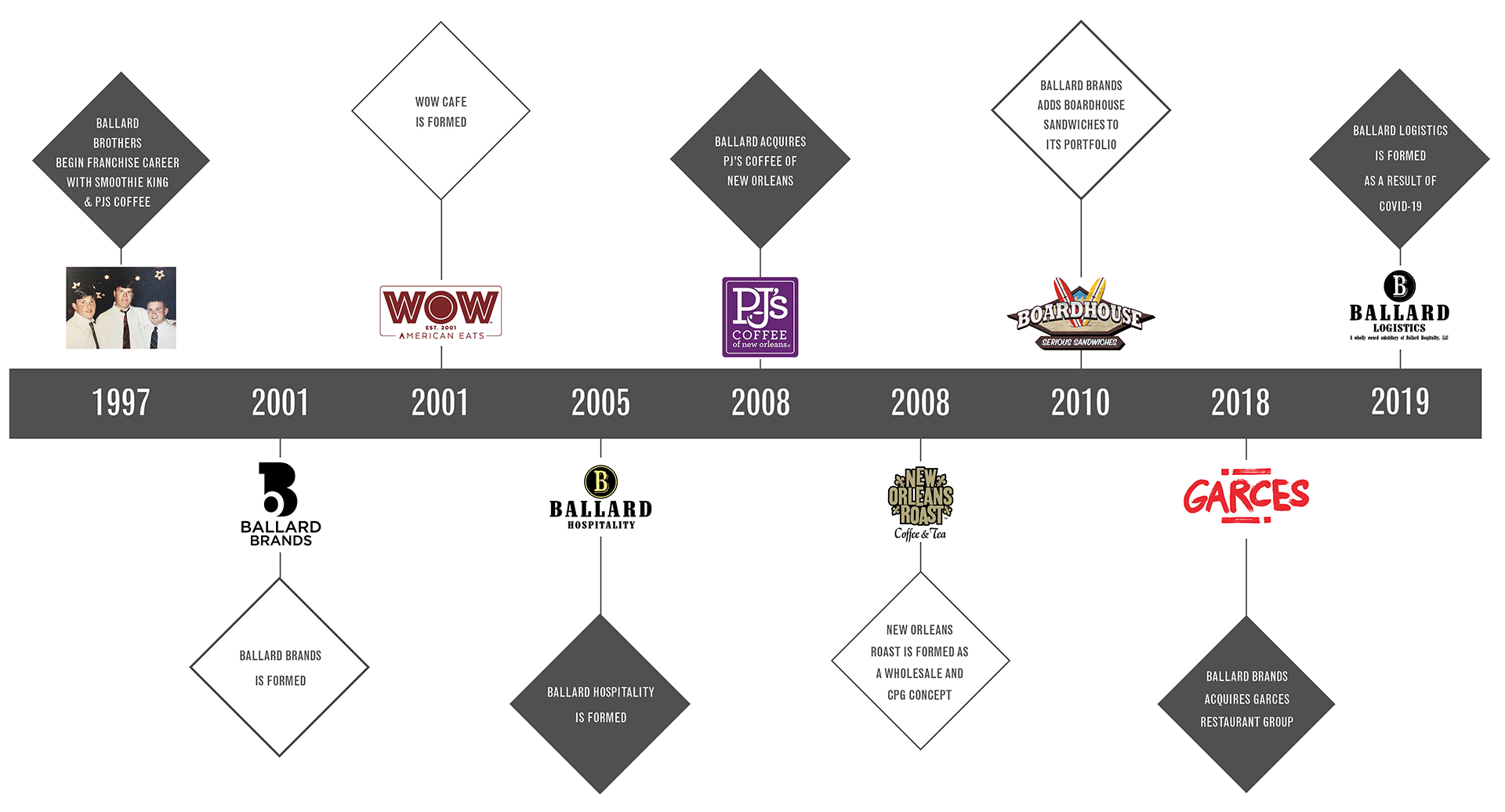 Our team